Live Seafoods
Vancouver is blessed with an abundance of seafood as evident in the live seafood tanks of Sun Sui Wah Restaurant. The line-up include geoduck, dungeness crab, lobster, prawn, spot prawn, rock cod, scallops, oysters, Alaska King Crab and more…
Rare Catches
Occasionally the fishing vessels bring back rare and exotic catches like Potato eel, Halibut and Pacific cod. Somethimes these special finds end up in Sun Sui Wah's Tanks. As it is not always possible to match the supply and demand, it is recommended to call ahead to reserve to avoid disappointment.
Alaska King Crab
The king crabs we eat are mostly harvested in the Bering Sea of Alaskan waters. They are harvested throughout the year, but the largest crop is found in March. Indigenous to the deep clear waters of Alaska which is free from pollutants, the Alaska king crab is well-known for its tender, juicy and sweet meat, and is truly King of the sea.
Pioneer with Live Crab
Due to the restaurant's strong emphasis in bringing the best and freshest seafood to the table, Sun Sui Wah Restaurant determined that with King Crabs, fresh is far more superior to the frozen product. After numerous testing in the kitchen among the chefs, they discovered the perfect way to prepare the crab to bring out the fresh natural taste. Next time you come to Sun Sui Wah, be sure to order the King Crab steamed with minced garlic. It will not be missed why it has become another signature dish or how come true seafood connoisseurs all insist on, "if dining out for Alaska King Crabs, it has to be Sun Sui Wah!"
Fresh Crab vs. Frozen Crab
Crab is one of the most delicate types of seafood. It is almost impossible to preserve the subtle taste of the meat once frozen. Fresh crab meat has a richness and tenderness that is markedly different from previously frozen crab meat.
Roasted Squab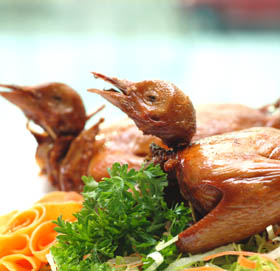 The famous roasted squab, a signature dish marinated with a secret blend of seasoning and spices to bring out the best flavors, roasted till crispy with tender juiced meat. One taste and it becomes habit forming. Although the squab is a delicacy more familiar to the Asian culture, now everyone is discovering its' delicious taste and health values.
This fowl is traditional Chinese delicacy. It is low in fat and cholesterol. It contains protein, calcium and an abundance of minerals and vitamins which are essential to good health.
According to Chinese medicine, it has healing properties to aid in liver & kidney functions and contain anti-toxins for cleansing of the internal organs.
Order as an appetizer to pair with red or wine of your choice.